This keto cake has all of the traditional flavors of gingerbread — brown sugar, cinnamon, nutmeg and ginger — in an easy, low carb version. It's perfectly sweet, a bit spicy from the ginger, and incredibly moist.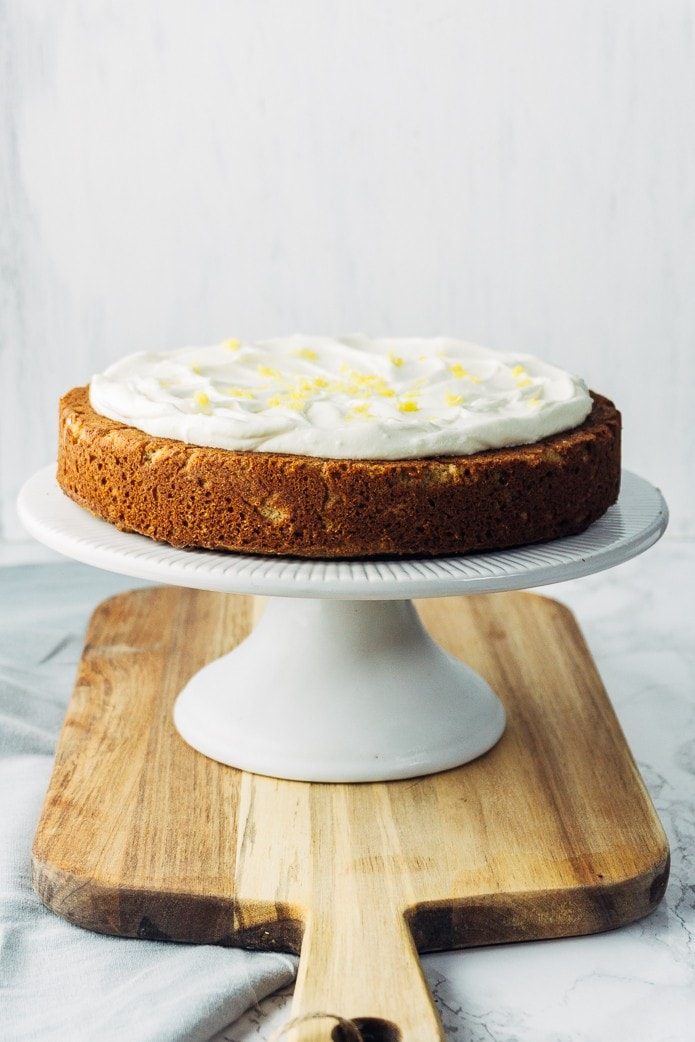 This keto gingerbread cake is made with almond flour and coconut flour — so it's naturally low-carb and gluten-free. A tangy lemon cream cheese frosting adds a pop of freshness and is the perfect counterpoint to the sweet spice cake.
The best part is that it's incredibly quick and easy to make — the batter is mixed by hand and comes together in 15 minutes. And if you don't have time to add the cream cheese icing, you could just as easily top it with a sprinkle of confectioner's Swerve or a dollop of whipped cream.
You can serve this gingerbread cake as an afternoon treat, or as a sweet dessert to finish a holiday meal. Sometimes, I'll make this cake without icing, and eat it for breakfast with a strong cup of coffee.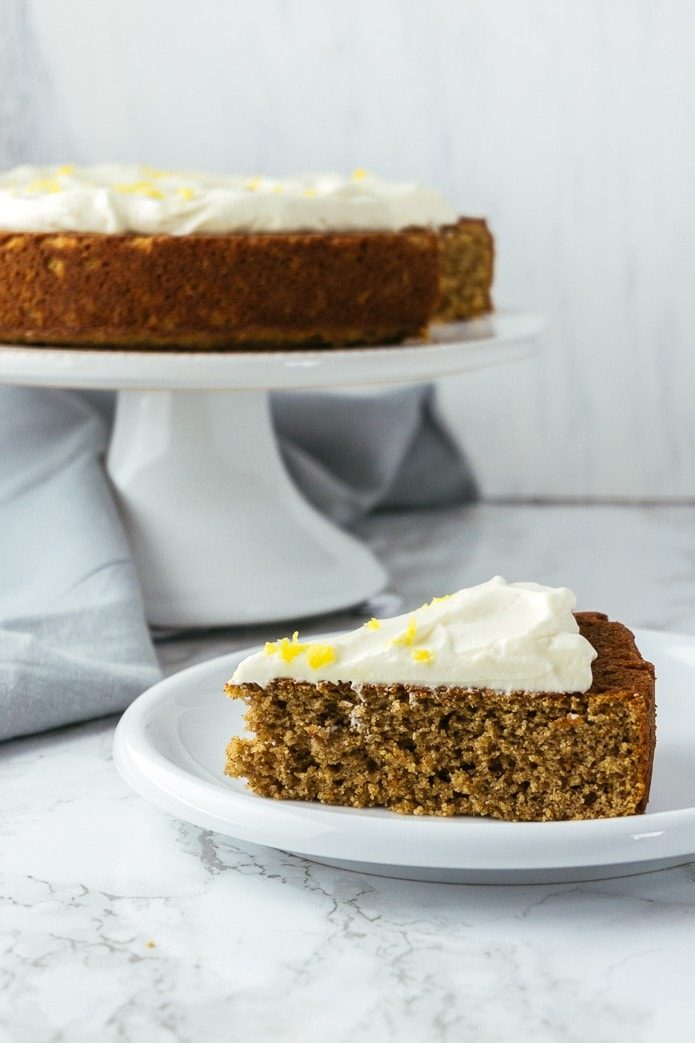 Gluten-Free Gingerbread Ingredients
To replace traditional grain flours, we're using a mixture of almond flour, coconut flour, and psyllium husk powder in this gingerbread recipe.
Almond flour is one of my most-used keto baking ingredinets. I recommend keeping a bag or two in your pantry — I use it all the time. I like to use an almond flour with a super-fine texture made from blanched almonds. I've had success using Bob's Red Mill and Anthony's brands, but other brands will work well also.
I also use some coconut flour in this gingerbread cake recipe. Coconut flour is high in fiber and absorbs liquids like you wouldn't believe, so we only need to use 1/2 cup in this whole recipe.
The third "flour" in this recipe is psyllium husk powder. Psyllium husk powder is used to retain moisture and help this cake from becoming too crumbly.
Keto Sweeteners
There are many low-carb sweeteners on the market. When you first start baking with keto sweeteners, you may need to try a few before you find the sweetener that you like the best.
For example, many people like stevia drops and granulated stevia blends. If you like it, that's awesome! Use them! But to me, they tend to taste a little bitter.
So instead, I prefer to use erythritol-based sweeteners, like Swerve. Swerve products are convenient in that they measure in the same cup-for-cup ratio as sugar.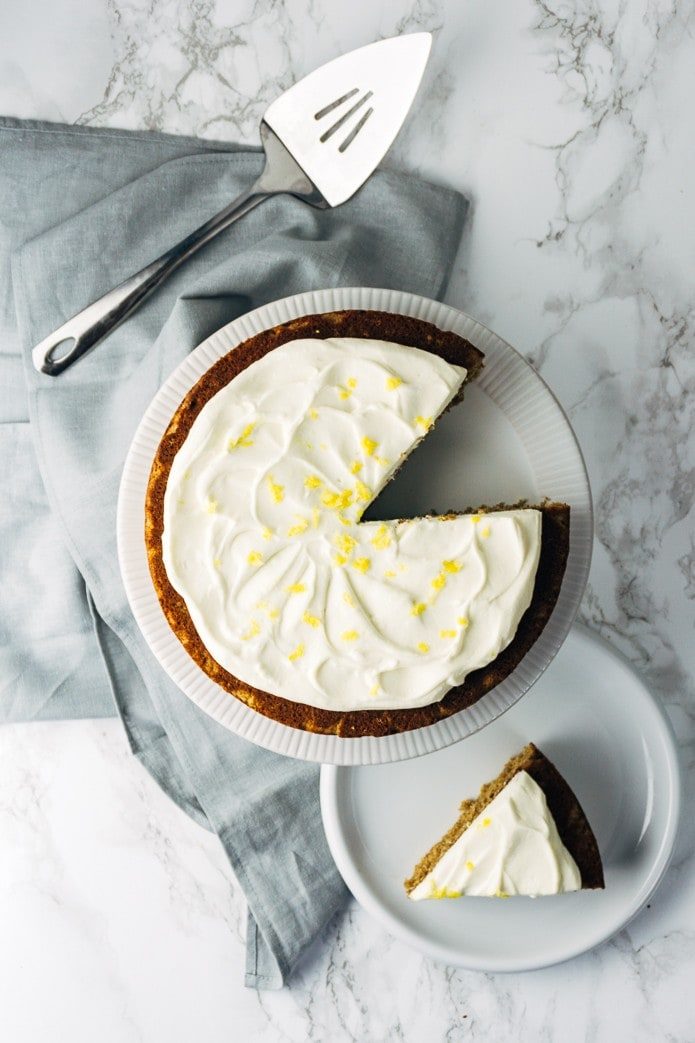 Variations on Keto Gingerbread Cake
This is a simple, one-bowl, one-pan cake. But here I've included tips to turn it into muffins, or jazz it up with brown butter and toasted nuts.
You can also bake this gingerbread as muffins, instead of a cake. Divide the batter into well-greased muffin cups. Bake at 350 for approximately 25-30 minutes.
If you like nuts, you can add 1/2 cup of chopped walnuts or pecans to the batter before baking. For even more flavor, toast the nuts before chopping and adding them to the recipe. To toast nuts: Place them in a single layer in a rimmed cookie sheet. Bake in a 350 oven for 5-10 minutes — until just golden and fragrant.
For extra toasty flavor, use brown butter instead of the melted butter. To make brown butter, start melting butter over medium heat. Swirl the pan as it cooks. It will foam, don't worry! Once the butter is toasty brown and smells nutty, remove it from the heat.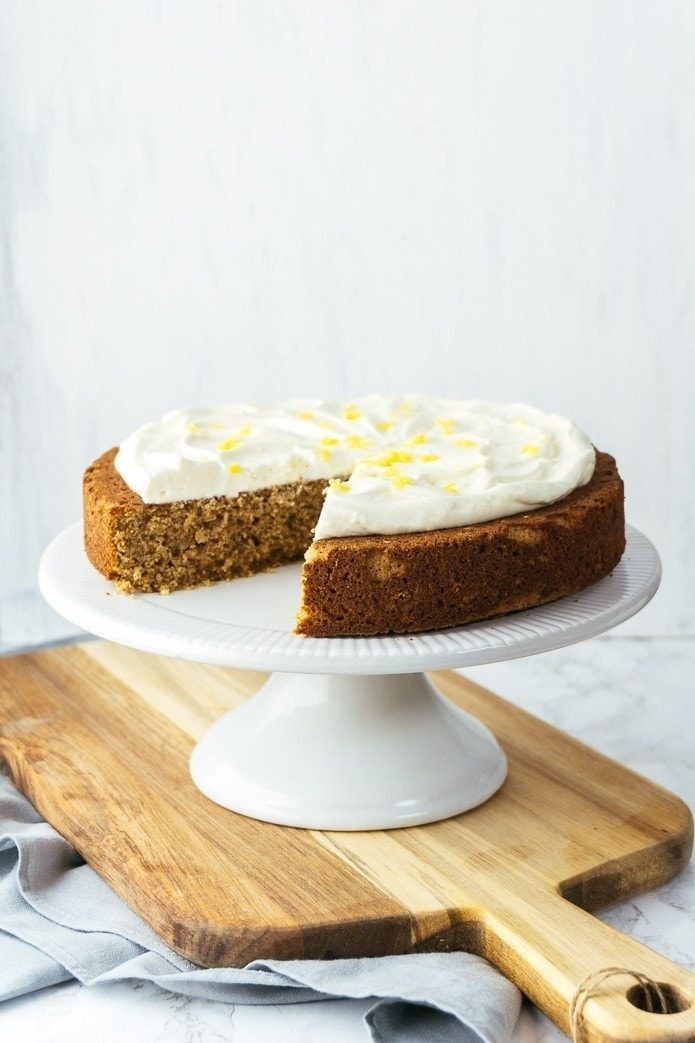 Tips for Baking Keto Cakes
Make sure your ingredients are at room temperature before baking. To bring eggs to room temperature quickly, place them in a large bowl of very warm water for a few minutes.
Use fresh baking powder. To test if your baking powder is still active, place a teaspoon of baking powder in a bowl and pour 1/4 cup of boiling water over it. If it bubbles right away, it's still good.
Sometimes coconut flour browns more quickly than you want it to. If you find that your gingerbread is browning too quickly, you can cover the top with foil. Add a piece of foil over the top of the pan for the last 15 minutes or so of baking so that the top doesn't over-brown.
Let the cake cool a while in the pan. Gluten-free quick breads and cakes are tender and crumbly when warm. So, it's best to let the cake cool in the pan before slicing it. Make sure to line the pan with the parchment paper so the cake is easy to remove from the pan. And finally, let it cool to firm up before slicing it— and you will be rewards with much prettier looking pieces.
Storing and Freezing Keto Gingerbread Cake
Storing: To keep gingerbread fresh, first, make sure you let it cool completely. Then, you can store it wrapped tightly in plastic wrap or in a lidded storage container. This gingerbread, unfrosted, will keep well at room temperature for a couple of days. If you've already frosted it with the cream cheese frosting, you'll need to store it in the fridge.
Freezing: To save time during the busy holiday season, I like to bake double batches of desserts ahead of time and store them in the freezer to defrost later. Bake once, eat twice!
To freeze this keto gingerbread cake, remove the cake from the pan and let it cool completely. Wrap the cake plastic wrap. For extra insurance from funky freezer odors, you can put the wrapped cake in large "zip" freezer bags. When you are ready to serve the cake, defrost it completely, and then make the cream cheese frosting.
More Keto Baking Recipes
If you like baking keto desserts, you may also like my Chocolate Oreo Keto Cookies, Fudgy Keto Brownies, Vanilla Cupcakes, Pumpkin Bread or Cinnamon Crumb Cake Donuts.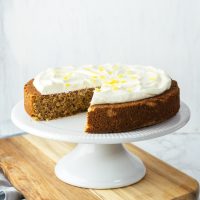 Keto Gingerbread Cake with Lemon Cream Cheese Frosting
A delicious low-carb keto gingerbread with the traditional flavors of ginger, cinnamon, and nutmeg.
Ingredients
Gingerbread Cake
1/2 cup melted butter, or brown butter
1/2 cup erythritol sweetener, like Swerve
4 large eggs
1/4 cup low-carb maple syrup, like Lakanto
1/2 tsp vanilla extract
1/2 cup coconut flour
1/4 almond flour
1/4 cup psyllium husk powder
1/2 tsp baking powder
2 tsp ground ginger
2 tsp ground cinnamon
1/4 tsp ground cloves
1/4 tsp  ground nutmeg
1/4 tsp salt
Lemon Cream Cheese Frosting
4 ounces cream cheese, room temperature
1/4 cup butter, room temperature
1/2 cup powdered erythritol, like Swerve confectioner's
2 tbsp lemon juice
pinch salt
Instructions
For the cake
Preheat the oven to 350°F. Grease an 8" cake pan, and line with parchment paper.
In a large mixing bowl, mix the butter and sweetener together until well-combined. Add the eggs, one at a time, and mix well to combine.
Add the maple syrup and vanilla extract, and stir to combine.
In another mixing bowl, stir together the almond flour, coconut flour, psyllium husk powder, baking powder, ginger, cinnamon, nutmeg, cloves, and salt. Break up any lumps of almond flour or coconut flour.
Add the dry ingredients to the wet ingredients, and stir to combine.
Pour the batter into the prepared cake pan. Bake for 20 minutes, or until a toothpick inserted into the center of the cake comes out clean.
For the frosting
Beat softened cream cheese, softened butter, and powdered sweetener together in an electric mixer fitted with a whisk or paddle attachment.
 Add lemon juice, vanilla extract, and a pinch of salt. Beat to combine. Mix until light and fluffy.
Spread the frosting on top the completely cooled cake.
Nutrition Information:
Yield:

12
Amount Per Serving:
Calories:

234
Total Fat:

22g
Saturated Fat:

13g
Trans Fat:

0g
Unsaturated Fat:

6g
Cholesterol:

114mg
Sodium:

230mg
Carbohydrates:

6g
Fiber:

4g
Sugar:

1g
Protein:

4g
The nutrition information is provided as a courtesy and is approximate only. It was calculated by My Fitness Pal with the recommended brands and ingredients. All brands are different, so please verify the macros with your specific ingredients to ensure accuracy.
Pin this for later!