These keto pancakes are light, fluffy, and delicious! They are my idea of the perfect Saturday day morning keto breakfast. This recipe is super easy and will definitely satisfy a craving for a big stack of buttery, syrupy, pancakes.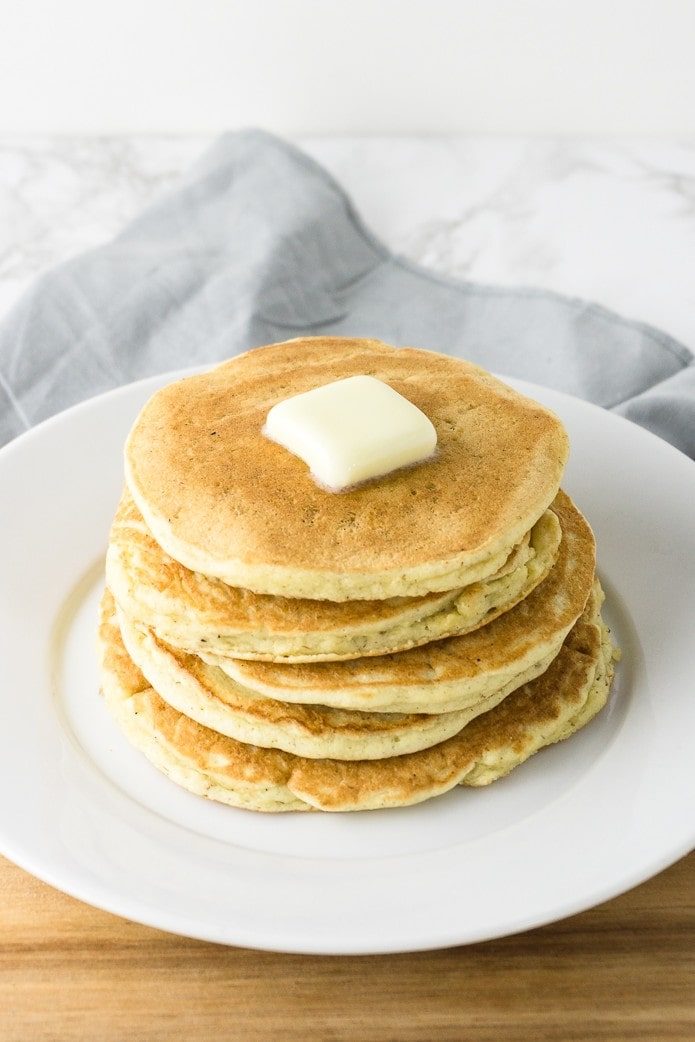 Keto Diet Friendly Pancakes
I love making low-carb recipes that recreate the taste of my favorite traditional recipes. And this recipe for keto pancakes certainly does the trick.
Think thick, fluffy, and buttery pancakes that are grain-free, sugar-free, and gluten-free! And macros? Each of these pancakes has only 1 net carb, so feel free to have a short stack
With this recipe, you don't have to give up pancakes on the keto diet.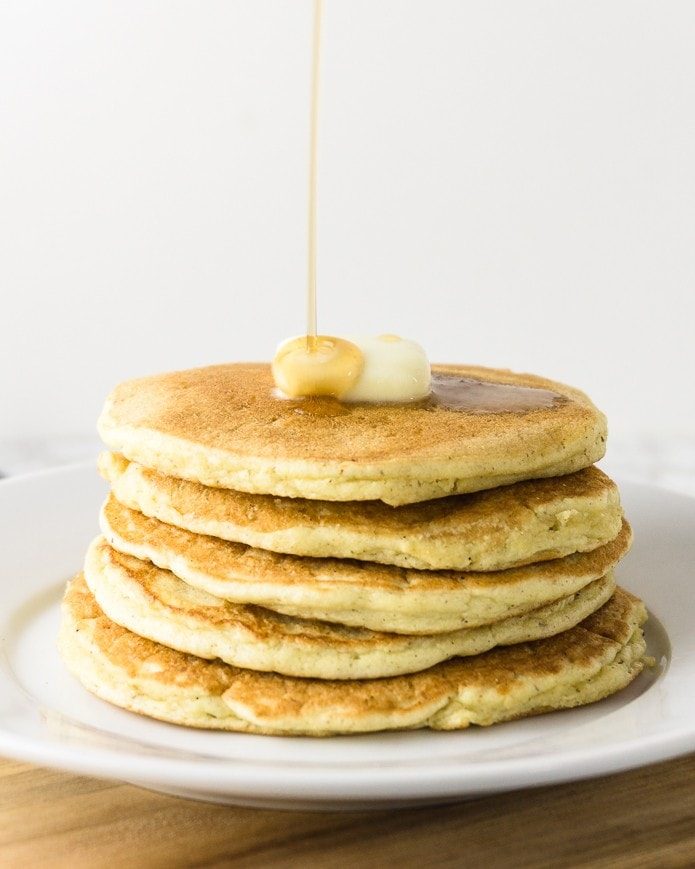 Cooking with Low Carb Flour on the Keto Diet
After a few weekends'' worth of recipe testing, I've found that a mixture of low-carb flours gives these pancakes a superior light and fluffy texture — the closest to a traditional pancake texture that I've ever tried. To get these results, I used a combination of almond flour and coconut flour, with an optional addition of psyllium husk powder and xanthan gum.
Now that gluten-free and low-carb diets are becoming more popular, its easy to find almond flour, coconut flour, and even xanthan gum in your local grocery store. If not, you can pick some up online on Amazon.
Almond flour is a great substitute for traditional white flour. Look for a blanched almond flour with a super-fine texture for best results. I like Bob's Red Mill or Anthony's brand almond flour. 1 cup of almond flour has about 10 net carbs.
Coconut flour is another useful, high fiber, low-carb baking ingredient. Coconut flour is made from ground and dried coconut meat.A little bit of coconut flour goes a long way, so in this recipe we use just ¼ cup. ¼ cup of coconut flour has about 6 net carbs.
Psyllium husk powder helps keep the pancakes moist, while also giving them necessary structure. I often add psyllium husk powder to keto baked goods to prevent them from getting too crumbly. If you can't find psyllium husk powder in your grocery store, try taking a look in the health foods aisle or the pharmacy section next to the fiber supplements.
Xanthan gum is a binding agent that takes the place of gluten in this recipe. You can find it in the baking aisle.
And finally, erythritol (Swerve) gives these keto pancakes just a bit of sweetness. Even though I used erythritol, you can use any sweetener you like. If you aren't following a keto diet, you could even use honey or coconut sugar. And all that said, feel free to adjust the sweetener amount depending on how sweet you like your keto pancakes. Remember that most of the sweetness will come from the syrups and toppings you choose.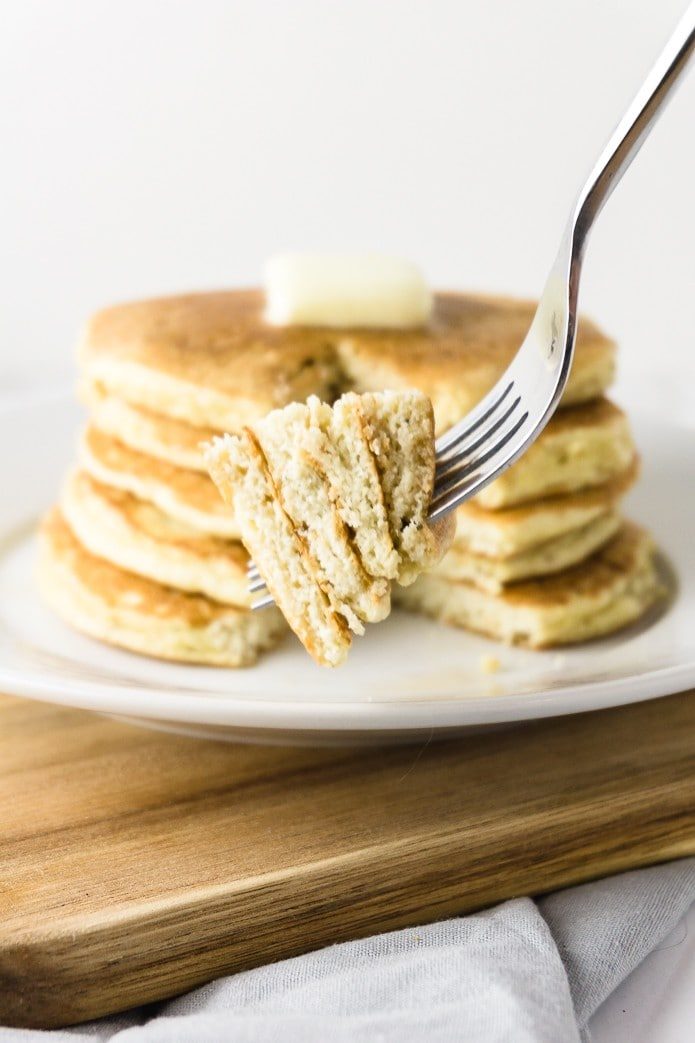 Tips for Making Fluffy Keto Pancakes
Keto bread and pancake recipes can be a bit trickier to make than traditional wheat flour recipes. Here are some tips to help you get those pancakes on the breakfast table.
Let the batter sit for 5-10 minutes before cooking. The coconut flour will absorb liquid like crazy, and the batter with definitely thicken up. If it gets too thick, add a little extra water or almond milk. You're looking for a thick, yet pourable batter- just a bit thicker than traditional pancake batter.
Keep the pancakes on the smaller size — I like making them about 5" across. These keto pancakes are more fragile than traditional pancakes, so making them smaller makes them easier to flip.
Use a good quality non-stick pan, and prepare it with non-stick spray or a pat of melted butter.
If your batter is too thick, you can spread it out in the pan — just a bit — with a spatula or the back of a spoon. Don't go crazy — the batter will spread out some on it's own as it cooks.
Keep the heat on medium low for best results. I found that increasing the heat risks the outside of the pancake burning before the middle has had a chance to set.
Consider making a double batch, as these keto pancakes freeze beautifully. Stash some in your freezer for an easy grab-and-go breakfast.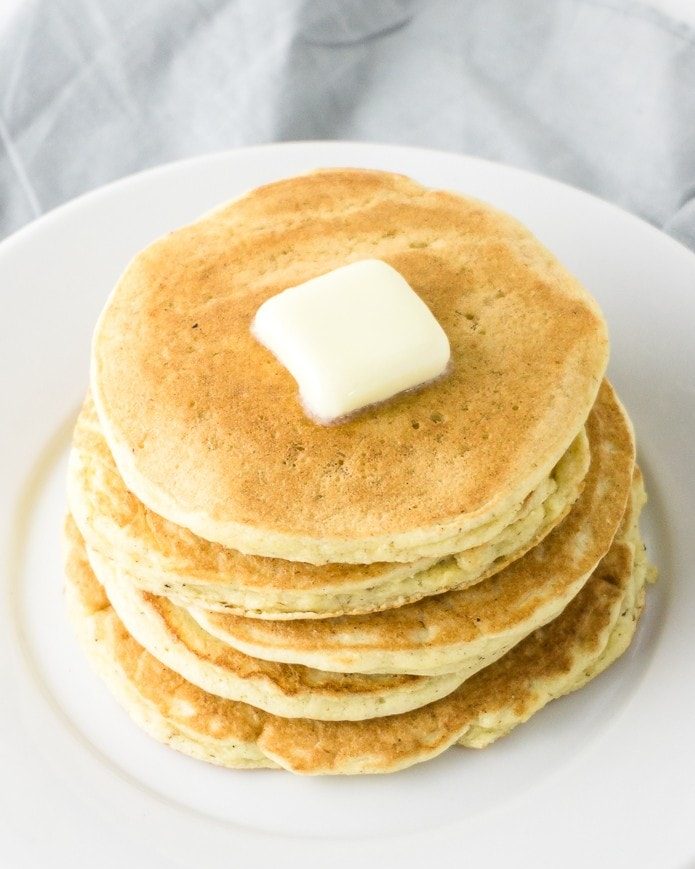 Sugar-Free Toppings for Keto Pancakes
Serve these pancakes with a pat of butter and some sugar-free syrup (I like Lakanto Maple Flavored Sugar-Free Syrup).
Or, if fresh fruit is more your style, serve these pancakes topped with strawberries, blueberries, and whipped cream.
For something different, try topping a stack of these pancakes with toasted unsweetened coconut, chopped pecans, and keto chocolate chips.
Freezing Keto Pancakes for Meal Prep
These pancakes are a great keto meal prep recipe. In fact, one of the best things about this recipe is that the pancakes freeze really well!
I often make a double batch of this recipe and freeze half of the pancakes for easy make-ahead breakfasts throughout the week. It's not that much extra work since I already have the ingredients and the pan out, right?
You can freeze the pancakes in a single layer on parchment paper, and then store them in a zip-top bag in the freezer. When you are ready to eat them, just pop them in the toaster or microwave to reheat — no need to thaw.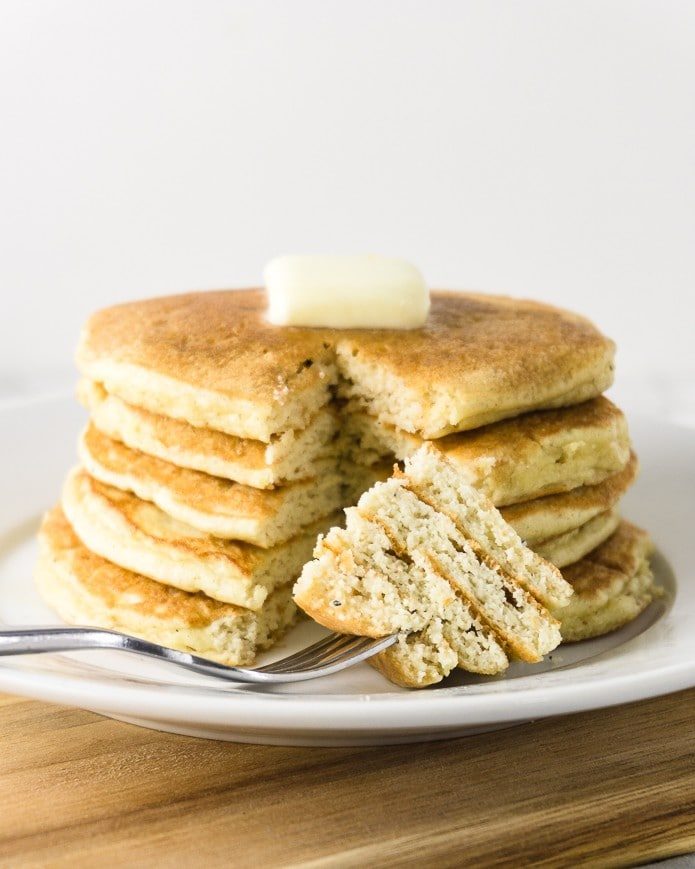 If you are looking for more keto breakfast recipes, try these Keto Pumpkin Cream Cheese Muffins, or these Keto Blueberry Muffins!
Follow me on Instagram and tag #greenandketo so I can see all of the delicious keto treats you are making!
Fluffy Keto Pancakes - Low Carb and Gluten Free
These keto pancakes are light, fluffy, and delicious! They are my idea of the perfect Saturday day morning keto breakfast. This recipe is super easy and will definitely satisfy a craving for a big stack of buttery, syrupy, pancakes.
Ingredients
1

cup

almond flour

¼

cup

coconut flour

1

tbsp

psyllium husk powder

optional

2

tbsp

sweetener

or to taste

¼

tsp

salt

2

tsp

baking powder

1/2

tsp

xanthan gum

optional

5

eggs

4

tbsp

butter

melted

½

water or almond milk

or more as needed
Instructions
In a mixing bowl, whisk together almond flour, coconut flour, psyllium husk powder, sweetener, salt, baking powder, and xanthan gum.

Add eggs, melted butter, and water, and whisk until smooth. Let the batter rest for 5 minutes. If you feel the batter is too thick, add more water one tablespoon at a time until the batter is thick but pourable. Whisk until smooth.

Heat a nonstick skillet over medium-low heat, and spray with cooking spray. Pour in ¼ cup of batter. If you need to, you can spread the batter out a bit with a spatula or the back of a spoon.

Cook for 2-3 minutes, until you see bubbles around the edge of the pancake and the pancake is set enough to flip. Flip and cook 2 more minutes, or until the pancake is cooked through. Transfer to a plate and continue with the rest of the batter. If you like, you can keep the cooked pancakes in a low oven to keep warm while you cook the rest of the pancakes.

Serve topped with butter, sugar-free syrup, blueberries, toasted unsweetened coconut, or keto chocolate chips!
Notes
Nutrition Information: 106 cals, 9g fat, 4g protein, 3g total carbs, 2g fiber, 1g net carbs. This recipe makes 10 regular size pancakes -- about 5" diameter. I've set the serving size to 1 pancake, so you can more easily calculate your macros. On a normal morning, I'm satisfied with one or two pancakes and a couple pieces of bacon. Depending on your appetite, you may want more or less -- up to you! A note about macros: The nutrition information provided as a courtesy was calculated with My Fitness Pal with the recommended brands and ingredients. All brands are different, so please verify the macros with your specific ingredients to ensure accuracy.
Pin this for later!