For an easy keto chicken dinner recipe, try this delicious Keto Tuscan Chicken with creamy garlic sauce, sun-dried tomatoes, and spinach. This recipe is a restaurant-quality meal that cooks in only 30 minutes!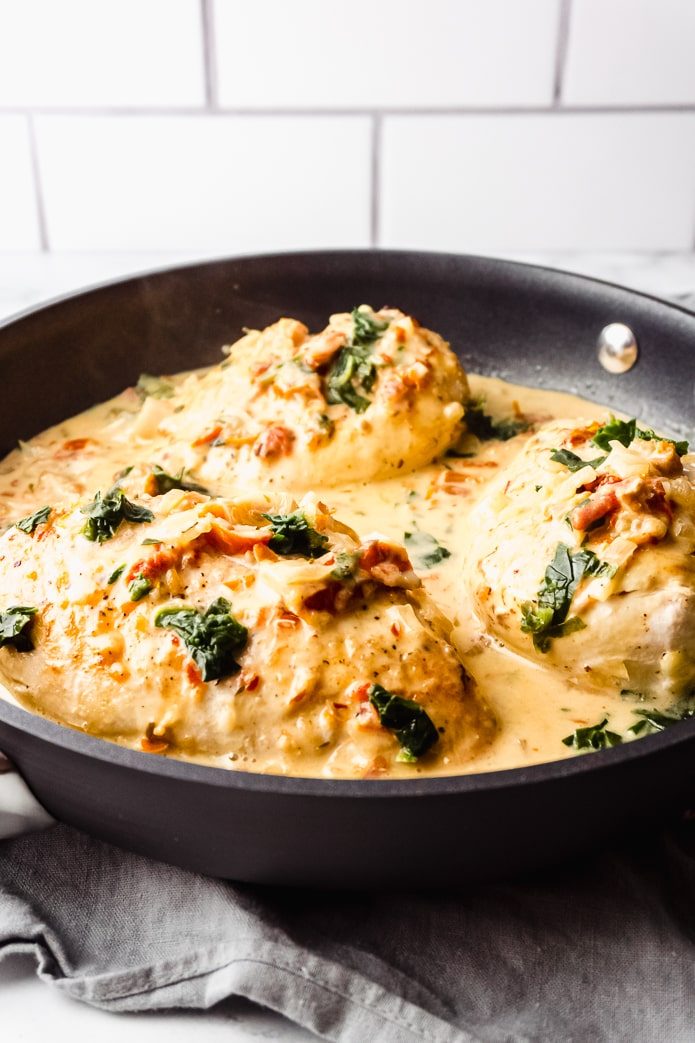 Creamy Keto Tuscan Chicken – aka "Marry Me Chicken"
You may have heard of Tuscan chicken, which is chicken breasts in a sundried tomato cream sauce with garlic and parmesan.
But have you heard of Marry Me chicken? From what I can tell, the recipes are very similar — although Tuscan chicken sometimes includes spinach, and Marry Me chicken adds a pinch of red pepper flakes.
Whichever recipe variation you choose, you're sure to love this keto chicken recipe. It starts with chicken breasts, or boneless chicken thighs, that are sauteed in olive oil until golden brown. Then, heavy cream and sundried tomatoes combine with garlic and Parmesan to make a savory, creamy pan sauce. The whole dish is baked in the oven until the sauce is bubbly and thickened.
Altogether, it's an easy, crowd-pleasing, popular 30-minute dinner that's made in just one pan. Can't get better than that for a quick weeknight dish!
More Keto Chicken Recipes
If you're looking for even more dinner inspiration, don't miss this Keto Chicken Skillet with Creamy Mushroom Bacon Sauce. For something a little different, check out these Keto Green Chile Chicken Enchiladas or these super easy Sheet Pan Chicken Fajitas.

How to Make the Best Keto Tuscan Chicken
One of the best things about this recipe is that it can be made in one pan in under 30 minutes. Make sure you choose a skillet or pan that can go from the stovetop to the oven!
Start by heating a few tablespoons of olive oil in a skillet over medium-high heat. Add the chicken breasts, and give them a good sear on both sides. It's okay if they don't cook all the way through, because they will be going in the oven later.
Then, remove the browned chicken from the skillet and set it aside. To the pan, add finely diced garlic. Be careful to stir frequently, and only cook the garlic for a minute since it can easily burn.
Then, add the thyme, red pepper flakes, chicken broth, and cream to skillet. Bring the sauce to a slow simmer, and cook it for a few minutes to allow it to reduce and thicken. Stir in the sun-dried tomatoes, Parmesan and spinach.
Next, add the chicken breasts back to the skillet. Spoon the sauce over the chicken to coat. Place the pan into a preheated oven and cook until the chicken is cooked through — about 15 minutes. You'll know the chicken is done when it registers 165F on an instant-read thermometer.
To serve, top with fresh basil and even more freshly grated Parmesan cheese if desired.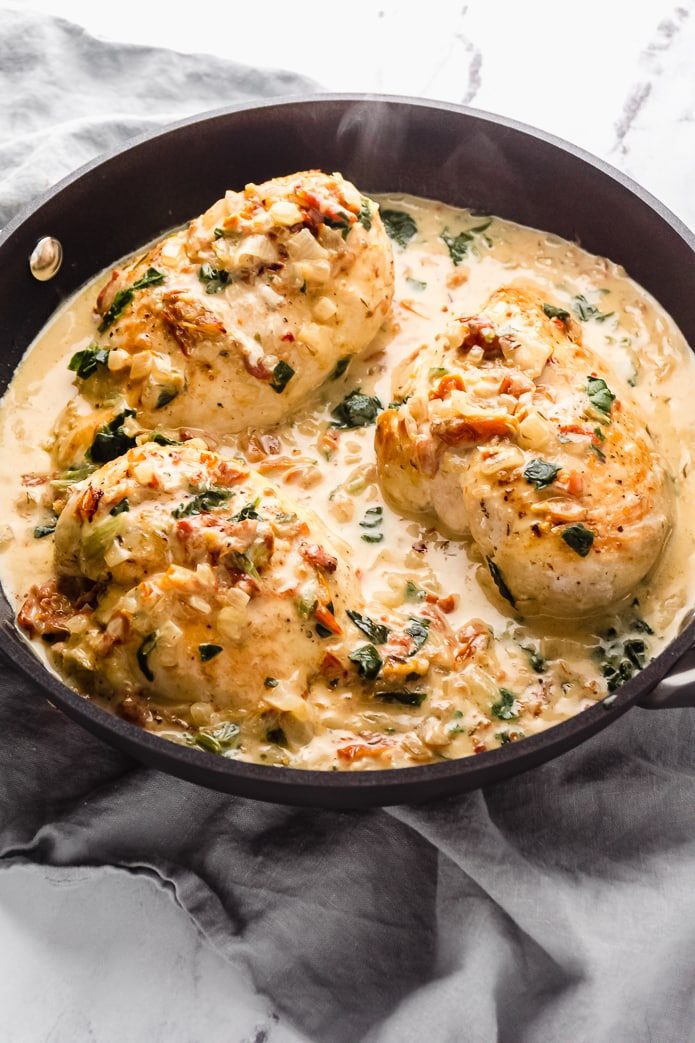 How to Serve Keto Tuscan Chicken
I like to serve this keto chicken dish for dinner with a side of simple cauliflower rice or, even better, my favorite mashed cauliflower.
How to Store and Reheat Keto Tuscan Chicken
If you have any leftovers (lucky you!) store them in the fridge in a lidded container for up to three days.
Like most recipes with cheese or cream sauce, I don't find that this recipe freezes well. Although, you could make the sauce by itself to pour on top of previously cooked chicken.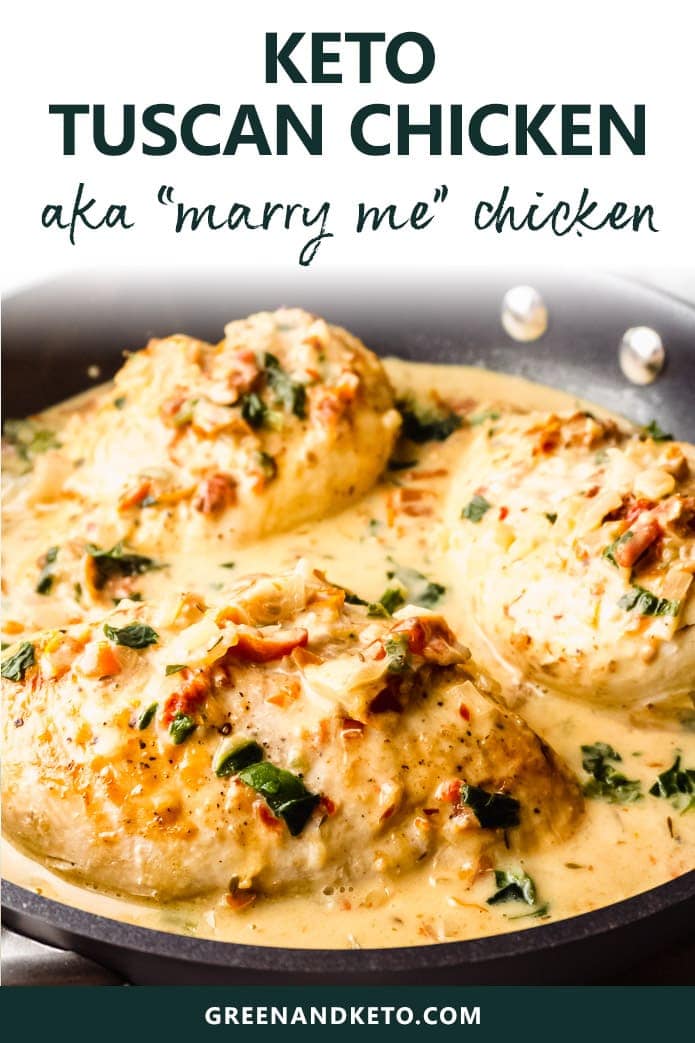 Save this recipe!
Pin this recipe to your Keto Recipes board on Pinterest so that you can come back and find it later!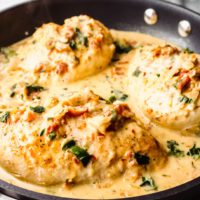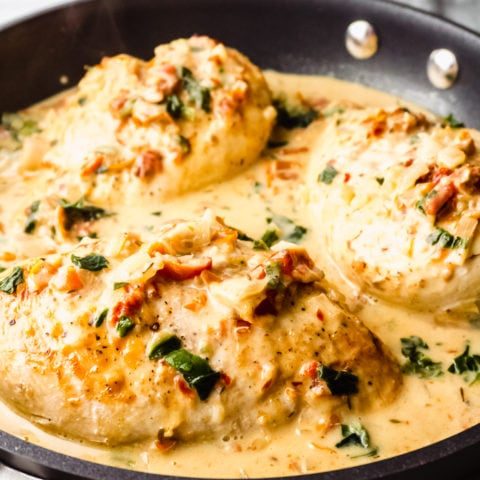 Creamy Keto Tuscan Chicken
Ingredients
1 Tablespoon Olive Oil
3-4 Large Chicken Breasts
Salt
Pepper
2 cloves Garlic (minced)
1 teaspoon Thyme
1 teaspoon Red Pepper Flakes (may add only 1/2 teaspoon for less spice)
3/4 cup Chicken Broth
1/2 cup Heavy Cream
1/2 cup Sundried Tomatoes (chopped)
1/4 - 1/2 cup Freshly Grated Parmesan Cheese
Fresh Basil
Instructions
Preheat oven to 375 degrees.  In a large oven-safe skillet heat oil over medium-high heat.  Season chicken generously with salt and pepper and sear until golden, about 4-5 minutes per side.  Transfer chicken to a plate. 

Return skillet to medium heat.  Add garlic and cook for 1 minute. Stir in thyme, red pepper flakes, chicken broth, and heavy cream.  Cook for 5 minutes, stirring often.  Stir in sundried tomatoes and parmesan cheese.  

Return chicken to skillet and spoon sauce all over the chicken breasts.  Bake until chicken is cooked through -- about 15-18 minutes.  Garnish with basil and grated parmesan cheese, if so desired.