Looking for some easy keto breakfast ideas? Look no further than my list of 35 keto breakfast recipes, including sweet and savory low-carb breakfast options.
What to Eat for Breakfast on the Keto Diet
You may have heard that breakfast is the most important meal of the day, but many people who start a low-carb diet struggle with what to eat for breakfast.
If you are used to having toast and orange juice in the A.M., you might be struggling with to come up with keto breakfast ideas.
Sure, keto-friendly bacon and eggs are great. But you can only eat them for so many days in a row before things start to feel really repetitive and boring.
The good news? I've got 35 creative keto breakfast ideas in the list below that'll make you forget all about your old carb-heavy standards. With these easy, keto-approved breakfasts, you'll stay full all morning, and can keep your carb count low at the same time.
Here are 35 keto-friendly breakfast recipes to inspire your low-carb breakfast game.
35 Easy Keto Breakfast Ideas - Sweet and Savory Recipes
Here's a huge list of my favorite keto breakfast recipes, including sweet and savory options. This comprehensive list includes beverages like bulletproof coffee, baked goods, and egg dishes.
Keto Breakfast Cookbook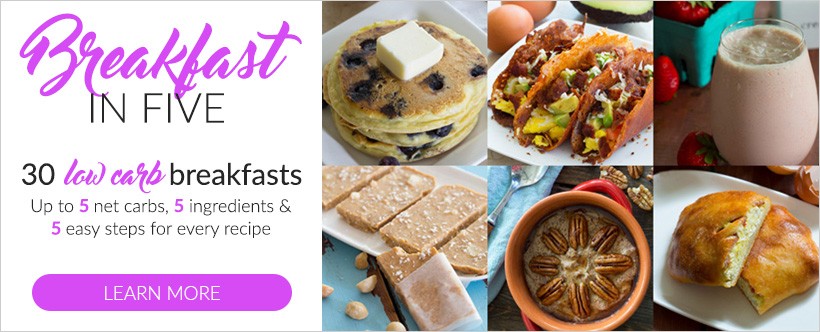 If you want even more inspiration, check out this keto breakfast cookbook.
In it, you'll find 30 keto breakfast ideas, all using just 5 ingredients and 5 net carbs or fewer! Plus, each recipe includes caloric and macronutrient data – it's all calculated everything for you so you can track your meals easily.
Pin this Post for Later
If you liked these recipes, be sure to pin this post to your Keto Breakfasts Pinterest board.
And